3D Hands & Feet Casting
3D casting is a fun & quick way to capture hands & feet. We cast any age babies, toddlers, infants, juniors, adults & pets

Booking is essential so we can arrange a day & time that would best suit you. Using a 1st grade dental moulding liquid which is non-toxic and skin safe (reguarly used by dentists to take teeth impressions) the hand/foot is slowly submerged into the liquid and gently held in place for less than 60 seconds while the mix sets. Babies can still move their hands/feet as movement will not effect the setting process. The hand/foot is then gently eased out of the mix leaving an exact mould of their hand/foot . The mould is then taken away to complete the casting process.
Casts are usually returned back to you within 3-4 weeks after the day of casting (this time scale may be longer during busy periods in the year ie Christmas, Mothers day Fathers day etc). The finished product is made from stone casting plaster which is hand painted bronze, silver, gold or any other colour you desire and then displayed on a wooden plinth or in a wooden box frame.
If you require a hand/foot combination not listed below please contact us for a quote.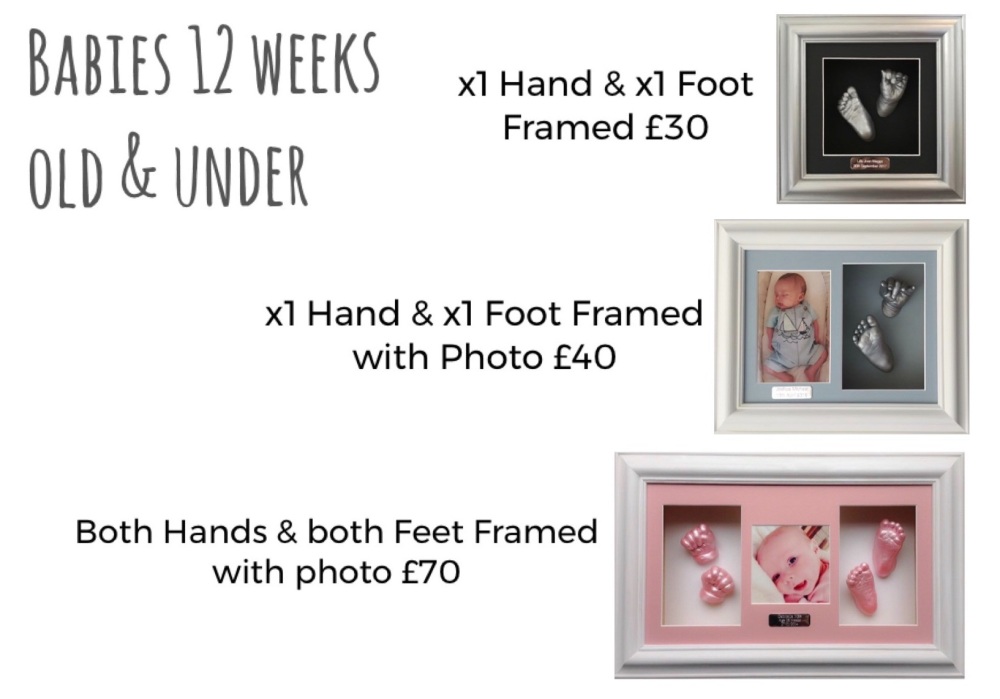 Older Babies & Children